EasyLoad Loading system for light commercial vehicles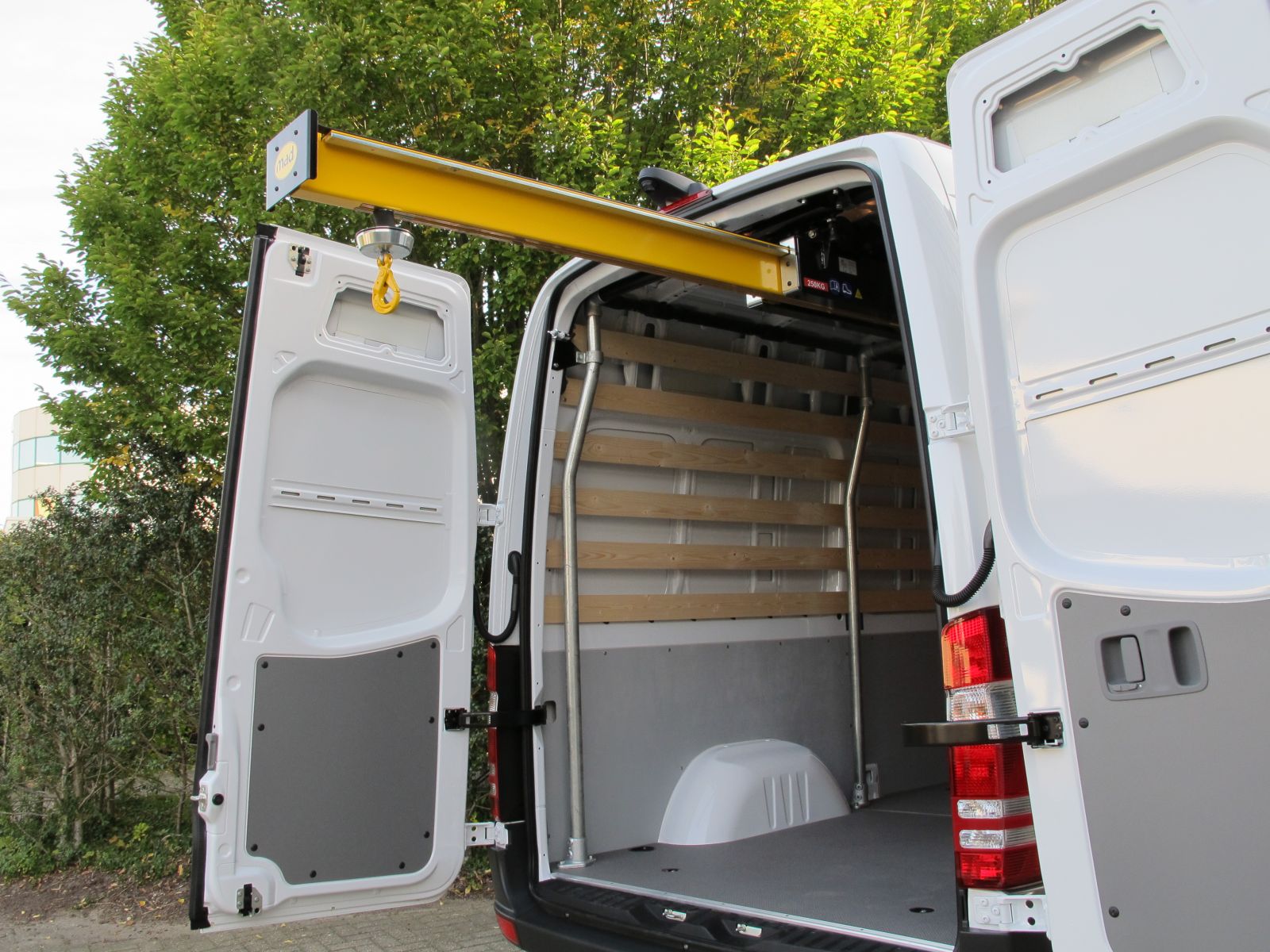 Simple and reliable installation
The EasyLoad onboard loading system consists of a high quality, compact winch unit with extendable boom. The stable lightweight construction guarantees absolute reliability and is maintenance-free.
The installation couldn't be easier. The EasyLoad is mounted on a lightweight, self-supporting frame which is positioned by an attachment to the existing points in the vehicle loading area. Only two cables have to be connected for the power supply from the vehicle – expensive modifications are unnecessary.When vehicles are exchanged, the EasyLoad can easily be uninstalled and installed again – thus avoiding wasted capital!
Custom-made frames are also available for all popular light commercial vehicles.
Installation diagram:

Technical data
| | |
| --- | --- |
| Maximum lifting capacity: | 250 kg |
| Length when contracted in: | 227,5 cm |
| Maximum load height: | 300 cm (minus the height of the interior space) |
| Dead weight: | 110 Kg (including winch, but excluding Installation frame) |
| Winch specification: | 12V 100A |
| Winch operation: | electric via pushbutton on hand-held unit |
| Slide system: | electric via pushbutton on hand-held unit |
| Lifting speed: | 10 cm per second |
| Cable thickness: | Ø 5mm |
| Average installation time: | 3 hours |
| Installation frames available: | Citroën, Fiat, Ford, Iveco, Mercedes, Nissan, Peugeot, Renault, Volkswagen etc. |
| Safety: | CE ,NEN-EN-14492-2 |
MAD also supplies Powersprings, being an extensive system for all loading issues, as well as interactive air suspension systems. Further information from your local workshop or dealer. Or contact us.